Do you love drawing?
Have you always wanted to be a full-time artist but don't know if you can make money as an artist?
You've come to the right place.
I am an artist/illustrator that used to make a full-time income drawing, illustrating, and selling art. I'm completely self-taught.
Everything I've learned, I've picked up from online classes. 
In 2018, I shifted to teaching other creatives how to make money with their creative skills. And I still draw for clients on the side if I find a project really interesting. But it's no longer my main focus because I love drawing for my blogs now.
My blogs which contain all my illustrations, make me money, and I'm so happy to be sharing that joy with you.
In this post, I will be breaking down everything you need to know to make money as an artist.
I will be focussing heavily on online methods because many of us are stuck at home due to the current situation. And a laptop and an internet connection are something most of us possess.
This post is lengthy because it includes multiple examples of other artists that make money online.
I will also be including additional resources that you can use to enhance your learning. You can skip sections by using the table of contents.
But before I get into the post, please take a moment to subscribe to my weekly newsletter, where I send all kinds of drawing tutorials, drawing worksheets, and drawing resources like courses and books:
It's the perfect opportunity to get inspired and be consistent with drawing!
This post includes affiliate links. If you do decide to purchase something, I will make a commission at no extra cost to you. For more information, please read my entire Privacy Policy here.
What do you need to know before making money as an artist?
Obviously, a lot goes into making money as an artist.
But before I cover those points, I want to talk about a few essentials you need to have first.
1. You need a niche
Art is a very broad term.
You can't do everything and expect to get clients.
People like consistency.
They want 1 style from 1 person.
Your job is to narrow down your style of work into 1 style and stick to it.
Check out Pernille's art:
She illustrates mostly female characters, and she's spent years refining her style. Because her art is so unique, you can recognize her work anywhere.
She has a flourishing Instagram account. And she even has her own website, which guides you to support her and buy her work.
Pernille illustrates beautiful books that you can buy here and sells merchandise on her Etsy Shop. In her books, she breaks down how she draws her characters from start to finish.
I loved her book because she walks you through the sketching and coloring process in detail. It's beneficial for Artists looking to get better with their drawing skills.
You can pretty much see her art anywhere and know that it belongs to her.
So, spend some time really identifying your niche and hone your art skills in that particular niche.
2. You have to practice every single day
You need to be consistent, and you will get better. It doesn't mean that you won't get clients or sell your work right now. This is how my work looked when I first started:
And this is how my work looks now:
I've been getting clients from the beginning, and their tastes evolved just as my art did. So, you don't need to worry if you're good enough or not.
Keep the focus on the present. And know that you will get better with time. It doesn't matter if it's traditional or digital art. Know exactly what you love, and keep working to improve your skills.
This means that you will need to invest in courses to become better at what you do, whatever your field is – illustrations, graphic design, watercolor painting, and so on.
I highly recommend buying individual courses on Domestika to become better at what you do.
For instance, this class that teaches you how to draw is by one of my favorite Spanish Illustrators – Natália Dias. All the classes have subtitles, so they're very easy to follow.

Her class is organized extremely well and takes you step-by-step to practice along with the class.
If you are consistent, you can't possibly fail. This is the truth.
Digital art is really easy and I learned how to color digital art just by watching several courses online.
3. You need to know who exactly is your target audience
This stage involves a lot of research.
This is the part where you figure out who is going to buy your work.
You have to know where your work fits in the real world. For instance, if you love watercolor art, you can draw flowers, botanical elements, etc. and sell those on Creative Market or Etsy like how Lisma does:
A fun way to find out who your target audience is is to go to your competitors (people who draw the same art style as you) and check out who is buying their products.
For instance, I went to Lisma's shop and checked out the tags at the bottom of her listing.
I've highlighted a few keywords in Pink.
When you read these, what do you figure?
People who are buying her watercolor work are obviously using her art to make greeting cards, Save the Date cards, and other wedding stationery.
In short, her target audience is designers in the wedding industry or greeting card designers. And Creative Market is a place where designers visit to get raw materials like clipart, graphics, and fonts for their designs.
So, she's going to do everything she can to put her artwork in front of that audience.
This is one of the benefits of knowing who is buying your work. You can now increase your sales by putting your work in places your target audience will find you.
You can start aiming for one target audience.
And once you make enough to support you monthly, you can broaden your target audience to aim for 2-3.
For instance, I have a very cartoonish art style, and because I loved making comics around curly hair, I kept getting approached by Hair Companies who wanted me to draw comics around their products.
When I started blogging, I started getting inquiries from Brand Designers to create illustrations for Bloggers who wanted to make their websites more colorful and happy!
Even though my drawing style pretty much stayed the same, my target audience kept changing as I kept changing markets.
So, take some time off to figure out who will buy your art and why they'll be buying your art. This is a deep question, but it will save you a lot of time in marketing.
4. You require business skills
There are a lot of skills you need to master to be an artist today.
Just drawing isn't enough.
You need to be very perseverant to make money. You'll have to know how to send cold emails to companies or people and talk about your work. You'll need to understand what kind of target audience your work is for.
And you'll have to know how to price your work.
This can be quite tricky.
As a Beginner, it's okay to price your work a little lower than your competition. But don't go too low because you'll attract the wrong type of clients – clients who don't value your work and will make you do a dozen edits or revisions.
You don't want that kind of nightmare clients, trust me.
The best way to price your work is to build a nice portfolio of your artwork (which should have a consistent style) and then go about cold-emailing clients to get your first few clients.
Once you get a few clients, you can slowly start increasing the price of your work because by then, you will have built a nice network of clients who keep buying from you or spread the word, so you get referral clients.
When I wanted to gain more clients, I joined a couple of Facebook Groups for Bloggers and showed them an illustrated business card I had made for myself. It was the hit of the party. Everyone wanted one.
And I got over 20 clients in 1 day.
5. You have to be willing to market your art relentlessly
You're going to get tired of talking about your art to the world, and you may feel very shy in the beginning. But remember, you are the marketer of your own business. If you don't talk about your art, no one has a reason to buy it or invest in your art.
This is the harsh truth about being an artist.
This also means that you cannot let negative comments and trolls get to you. You have to develop a really thick skin to market your own art.
If your art is attracting absolutely no one and you really have tried putting your artwork out there for a long time, then there is a good chance that there is no market for your type of art.
In this case, you may have to go back to the drawing board and adapt to a new style.
This is why I tell every artist, in the beginning, to understand what their niche is and do research on their competitors. You must have an audience that wants to buy your type of art before you start putting it on the market.
Now when it comes to marketing, there are a lot of tasks involved:
Constantly updating your art portfolio
Researching SEO and keywords
Cold emailing potential clients/companies
Promoting yourself non-stop on social media
Knowing how to price your work
My point is, that being an artist isn't easy.
You have to be very organized and make a schedule that involves drawing and marketing to make it as an artist.
6. You must be careful with your finances
I explain most of the common mistakes I made as a struggling Illustrator here.
You need to keep in mind that you will have good months and bad ones in the beginning.
This means you need to save money whenever you make a bucketload of it. And keep a reserve of savings to support you and pay your utilities for six months. This way, even if there is an emergency and you're unable to work for a while, you know that you have enough saved to support you.
Learn how to handle your finances. This is a skill that every entrepreneur needs to learn.
Here are a few books I highly recommend reading:
7. Focus on what is working and what isn't
There is a lot of trial and error with starting your own business and working from home. But it's worth it.
Not every method might make you rich. Some might fail. Be prepared for it.
And don't lose hope. If one thing does not work, that's okay. Move on to the next.
For me, physical merchandise wasn't very lucrative. And I grew tired of selling it in physical stalls. I found selling illustrations and working for clients easier. So, I shifted to digital work, and I honestly love it.
It doesn't drain me at all.
It's okay to try new things till you find what's making you happy.
8. You need to be consistent
Do you have a lot of unfinished projects?
Are there days when you just don't feel like drawing, or do you feel bored?
Do you find yourself procrastinating constantly?
If you answered yes, to any of these questions, you must do something about it. Please understand that procrastination often is a cover-up for a deep-rooted fear like:
Fear of rejection
Imposter Syndrome
Fear of not being perfect
You must get to the bottom of these fear and start developing a good drawing routine.
Motivation doesn't come to us every day. It's about sitting and drawing every single day, whether we feel like it or not. The ones that do overcome their procrastination habits really do find success. You don't need to be inspired to draw.
You just need to build a routine.
I highly recommend picking up Zen Pencils volume 1 and volume 2.
Learning how he overcame procrastination and continued to draw despite so many obstacles inspired me to my core.
I read his books every single year or whenever I need a little pick-me-up.
9. Focus on your own journey
Too many Entrepreneurs (including artists) often get discouraged by other people's successes.
Remember, you should NEVER compare your beginning to someone else's middle. You have no idea how many sleepless nights or obstacles they've had to conquer to get to that result. You only see the finished product.
You only know your journey. So, if you have to compare, compare your work with your work 3 months ago or 6 months ago. See how far you've come. And focus on your progress.
It's alright to learn from other artists and keep practicing and fine-tuning your own techniques, and you will get better.
How much money can you make as an artist?
The sky is the limit.
Seriously.
You can earn anywhere between $1K/month to $50K a month. At my peak, I was earning about $3-4K a month as an artist. And I was doing it part-time.
I'm not going to lie; it takes a while to find your zing and discover your target audience. But once you get the ball rolling, making money as an artist actually becomes quite easy.
And now that we've covered the essential skills you require as an artist, I'm going to move on to more established methods of making money as an artist.
Let's begin, shall we?
How do you make money online as an artist?
1. Sell your work on a platform
If you're creating clipart, prints, illustrations, photos, etc., there is a market for this! You can also sell physical items.
And you can sell your work on Creative Market or Etsy. It's really easy to start a shop. And you can do it with a click of a button! If you're selling digital work instead of physical, you literally have nothing to lose except time.
When you're selling your work on such platforms, here are a few things you need to pay attention to:
Understand who your target audience is. For example, if you're creating just calligraphy prints, stick to one audience type – like bloggers and business owners who want sassy quotes.
Pay attention to keywords because this is how people find you. Not everyone is art savvy. They may not refer to your work with the correct term. So you have to use words that your potential buyers will type. At the same time, you need to target low-competition keywords so that you can grow your reach and not fall through the cracks. You can read more about using keywords for Etsy here.
Stick to 1 type of art. If you're making just art prints, do that. If you're making clipart, then do just that. Don't branch out and try to make multiple things. This won't work in your favor.
I suggest you first sell on a website like Etsy because they already have an audience. This means, you don't have to tire yourself marketing your art. If you do a little SEO and optimize your shop for sales, you can easily make $1K a month selling your work on Etsy – be it handcrafted earrings, bookmarks, or stickers.
Here is a nice Udemy course on growing your Etsy sales without ads.
Let's look at some examples:
Sophia Laurent sells printable wedding signs and wedding welcome signs.
Or take Amy Klepser, who sells delicate and fine jewelry in her Etsy shop.
Here are some things you should know if you're selling physical items:
You have to understand that you need to keep aside money for manufacturing, inventory, etc.
There is more work involved because you need to create these items, maintain inventory and handle shipping.
Digital items have 100% profit, unlike physical items.
So, before you jump into a business, please do your research and see how much work will be involved.
Take some time to understand your market and its requirements. If you are looking to start an Etsy shop and want more tips related to Etsy, I recommend checking out Morgan Nield because she has tons of posts for Etsy sellers that help them maximize sales.
2. Sell your work on your own website
Once you get a huge bucketload of return clients and you've built a Brand, you can shift your shop to your own website!
Carmia Jordaan sells beautiful printables and digital goods on her website.
And she also sells her planners on Creative Market.
She also has her own blog, so she's made her art her complete online business.
Things to note:
When you use your own website to sell your work, you don't have to pay additional fees. You get to keep all the profits.
The downside to keeping your shop on your website is that you are starting from scratch. There is no audience. You'll have to do your own marketing. One of the best ways to do this is to utilize Pinterest and have a blog going on at the side, starting an email list, etc.
Do not start everything at once. Start small.
Fran Meneses started posting her work on Instagram just using the Inktober challenge. As her Instagram followers grew, she started her own Patreon account.
She went on to diversify her income by starting an Etsy store where she sold prints and zines, and once she built a repertoire of buyers, she shifted to her own website!
What to know about selling your work on your own website:
It takes a while for SEO to kick in and start gaining traffic. And while you're increasing your traffic for your website, you can continue to sell your work on other platforms.
Once you shift your shop to your website, try to focus on building your email list to make steady sales.
Building your email list will help you make more sales.
Having your own store online is the best way to make money online as an artist in my opinion.
3. How to use Instagram to make money as an artist
A lot of Illustrators and Artists post their work on Instagram. I built my followers to 180K plus in 6 months before a glitch affected me and then I shifted to blogging.
But I know it can be done because I've done it before, and I've seen so many other artists do it.
The key is to post consistently and have a style that is recognized anywhere. That way, even if someone steals your art, people will know where to go to find the original creator.
Once you gain a decent following on Instagram, you can pretty much use any of the methods listed in this post to start making an income.
For instance, Dani started her Instagram account to post about anti-racism and faith.
And once it took off, she created her own store where she sells stickers and other merchandise.
What you need to keep in mind when posting your art on Instagram:
You need to build a brand to grow on Instagram, which means having very consistent branding, messaging, and posts.
Focus on no more than 1-2 monetizing strategies at a time
Use a combination of posts, reels, stories, and IGTV to get followers quickly
This is one of the best ways to make money online as an artist.
4. Sell physical merchandise
One of my dear friends – Pranita Kocharekar, has a beautiful Instagram page where she posts much art related to self-love and self-care.
She has her own website that is a blog, and a shop.
And you can buy anything from notebooks, buttons, and calendars to decals and mugs with her merchandise on them. My fridge is stocked with her fridge magnets. They're super pretty!
Her products are not only vibrant and beautiful, but they're extremely mindful.
Most of the artists I've mentioned in this post use Instagram to drive sales to their shops.
For example, Katie Abey's Instagram is super colorful, and her brand is on point.
She uses her Instagram to direct traffic to her lovely Etsy shop, where she sells greeting cards, buttons, mugs, stickers, etc., with her art on it. And she's extremely successful!
If you are looking for a complete course on creating a Brand on Instagram, developing an Illustration brand, and then merchandising, please take this course on Creating an Illustrated Brand: From Idea to Merchandising. This is one of my favorite courses of all time.
She goes into detail on how you can start drawing, illustrating, and then creating a beautiful brand by printing your work on merchandise and selling it across the globe!
(Use code STRAYCURLS-10 to get 10% off!)
5. Start a Patreon Account
For instance, PetFoolery started a comic account to document cute stories about a german shepherd and a little cat. The idea was simple enough, but it skyrocketed, and he has millions of fans who look forward to anything he could create. He soon announced his Patreon account, and he's making over $10K a month simply by creating 1-2 special comics for Patrons.
Now that he's stabilized his income, he's also making graphic novels and action figures.
Lele Does Doodles shares her illustrations, art tutorials, and detailed videos on her Patreon page.
This is hands down one of the prettiest Patreon Pages I've seen.
What to note about starting a Patreon Page:
It's tough to get Patrons unless you have a lot of followers and fans. So, grow your following on Instagram to a significant amount before you start a page.
The churn-out rate is high. So, make sure you diversify your income by making money in other ways.
Several artists live off their Patreon accounts alone because they use Instagram to get Patrons, and it works for them.
It's a new way to make money online as an artist. You can also consider starting a Ko-fi page.
Okay, moving on!
6. Start a YouTube Channel
Countless artists have started YouTube channels, and they're really successful.
It's an excellent way to make passive income. Because once you publish a video, you're pretty much done. Just like a blog, you just have to get views, and you'll be paid at the end of each month.
Bobbo Andonova is one of my favorite Artists on YouTube.
Her art tutorial videos are addictive because they're informative and hilarious. She's got seriously amazing video editing skills.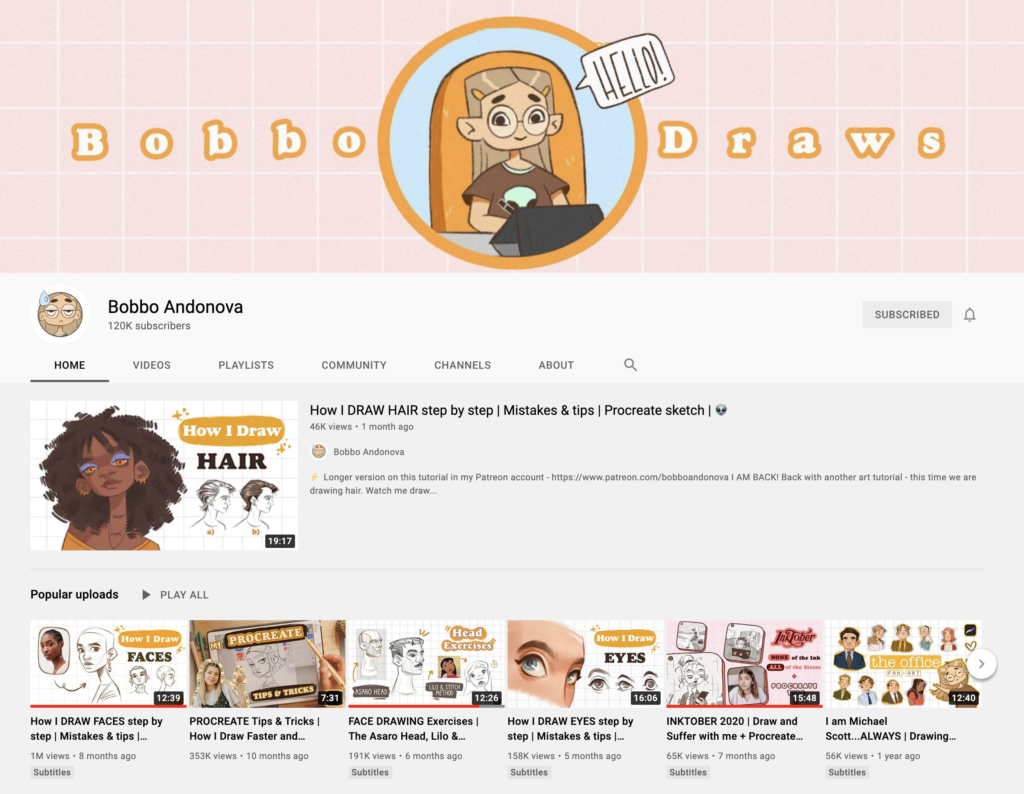 And it's not surprising that she grew so quickly!
Here are a few things to note about starting a YouTube Channel as an artist:
Creating videos is very time-consuming. So make sure you set aside time weekly to make videos.
Be consistent. YouTube rewards consistent people.
You don't need any fancy equipment to make videos on YouTube.
She also has a Patreon account.
There are so many ways to make money online as an artist – it is important that you use multiple.
7. Teach your skills on platforms like Udemy, Teachable, Domestika, and so on
Once you feel you're really good at a certain skill, you can create a course and sell it on any of the above-mentioned platforms. Online courses are an excellent source of passive income. Because you only have to create the course once.
And once it's created, you can start live off the sales for years to come.
Lindsay has a nice Teachable course on creating realistic pencil drawings.
Here's what you need to know about creating online courses:
It is more cumbersome to create compared to eBooks and other digital products.
You have to think about which platform you want to go for in advance. If you choose Teachable, you have good flexibility in pricing, and you can make larger profits. But you have to do your own marketing. However, with platforms like Udemy or Domestika, you can get found on their search engines for keywords related to your course. So, you are putting your course on a platform with a ready audience. However, the profits per sale aren't as large as with Teachable. My theory is, that it's better to get a larger percentage of a grape than a tiny portion of watermelon. So, if you don't have an audience, stick to Domestika or Udemy.
8. Sell your content on your website tied to Gumroad or SendOwl
I adore SendOwl because there is a flat monthly fee, and there are no transaction fees. Meaning if you choose their starter pack, you will pay $9 per month whether you make 5 sales or 500. I use SendOwl to sell my eBooks.
And I make my full-time income from these ebooks.
For selling smaller products like books, mini video trainings, PDFs, and so on, these platforms are great.
Mitch Leeuwe, for instance, sells art tutorials in the form of videos and eBooks on his Gumroad platform.
This is by far one of the best ways to make money online as an artist.
He uses Instagram to market his shop.
9. Create and sell a book
There are too many artists to name whose Graphic Novels and Illustrated books I adore.
But off the top of my head, I love Jen Wang's The Prince and the Dressmaker.
She wrote and illustrated the book, and there isn't a single person I've met that read this book and didn't love it. It's gorgeous.
Lucy Knisley also has illustrated several books, and I have all of her books
What you need to know about creating a graphic novel:
There is a huge time commitment involved. So, it's best if you leave this for a later stage in your art career, preferably after you've built an audience that knows you and appreciates your work.
One of the best places to sell your Graphic novel other than your website is on Amazon because Amazon already has a big audience.
You will have to understand terms like bleed, frame, etc. Here's a resource to help you with that.
10. Hold classes or workshops
If you prefer holding private classes, or online workshops, you can do this via Instagram or Facebook. Just put an ad on your stories and say that you're holding a private class.
You can even go 1 step further and create a Facebook ad announcing your drawing/doodling workshop.
Marloes De Vries holds workshops and even does podcasts, but she does it all through her website. You can find out more on her website here.
She, too, started as an Illustrator on Instagram and now makes money with her art using several methods highlighted in this post.
This is a really fun way to make money online as an artist.
11. Sell your work on websites like Society6 to be printed on merchandise
A lot of people buy tee shirts, tote bags, and badges with custom artwork printed on it. You can sell your art on this as well to make money.
The advantage of doing this is that you don't have to handle manufacturing, inventory, or shipping. The platform takes care of it for you! These are called Print on Demand Websites.
There are plenty of alternatives to Society6 that you can find here.
12. Create your own Portfolio on Behance/Instagram
Now, you can also take up commissioned work.
This involves creating an online portfolio and then trying to get clients.
Once you create a portfolio, you can directly apply to companies by sending cold emails and then linking to your portfolio.
Here's a nice course on creating an illustration portfolio on Instagram that you might enjoy!
Once you create your portfolio, you can sign up to sites like Upwork, PeoplePerHour, and so on to get work.
Freelancing is a great way to make money online as an artist! I did this for a long time before I ventured into blogging.
13. Become a comic artist
You don't need extensive drawing skills to make money as a comic artist.
For instance, Mari Andrew started posting very thoughtful posts with her simple drawings on Instagram as a method to self-heal and share her experience with others.
Once she hit a massive following, she started branching out by writing her own books and creating her own class. This is how she was able to make money online as an artist.
I love her books!
Here is a nice course on creating comics and illustrations on Instagram I loved:
Diversify your income
A lot of the artists I've mentioned in this post make money with their art by using a combination of multiple methods.
It's best to focus on 1-2 at a time, but as you grow your income, it's good to scale your monetizing methods and not entirely depend on just 1 means of income.
They say "don't put all your eggs" in one basket for a reason.
For example, Lisa Glanz holds classes on Skillshare to teach people how to draw, and she sells clipart and illustration bundles on Creative Market, Etsy, DesignBundles, and her own store.
She has one of the most beautiful artist blogs I've ever seen.
The possibilities of making money as an artist are endless. You can mix and match several strategies, and it's best to focus on passive income strategies once you start gaining a steady monthly income.
Conclusion: What you need to know to make money as an artist
Phew! That comes to the end of this extremely long post!
I hope this post gave you some ideas on how you can make money online as an artist. If anything, I hope seeing so many examples of other artists making money will inspire you to go down this road and start drawing for a living!
There is no shortcut to making money.
Especially if you want to make it doing something you love.
It takes a while.
You need to be super consistent and follow a schedule to the bone.
But once you make a name for yourself and you build a fanbase of people who can't get enough of your work, your income will never dry up.
Once you start making a lot of active income, try to slowly shift to passive income so that you can make money without actively working for clients or working on projects.
The truth is, you have to draw because it fuels you and keeps your passion going. There will be days when things don't go according to plan or some things don't work out.
When this happens, you must learn from your mistakes and keep going.
Additionally, please don't be entirely dependent on another platform for your income. Instagram or YouTube can change its algorithm at any time, and you could lose your entire source of income in a second.
Please take the time to create a simple website and start an email list to have some control of your fanbase.
Here are some helpful resources for you:
Courses for Artists:
I highly recommend checking out Domestika's Courses because they have courses on almost anything you want to learn, and they're structured beautifully.
It's very well organized, and its website is super fast. Their app is lovely too. You can download the classes and watch them offline, and the best part?
Once you buy the course, you own it forever!

Books for Artists I recommend to help you with money:
And if you're lacking inspiration and want to hone your creativity and make money with your creative skills, please check out my free Course!
You might also enjoy reading these posts on the blog:
Let me know if you have any questions by leaving a comment below, and I'll be more than happy to help!