As an artist, I often get asked this question – How to find your art style?
Drawing is such a lovely hobby and if you are keen on taking it seriously and becoming a professional artist, you have to find your art style.
That's the only way people will recognize your art and drawings no matter where they see your work.
So, no matter where your art is posted – be it a poster on the street or a cup in a shop, people should know it's drawn by you.
That's what having an art style is all about.
And in this post, I'm going to cover how to find your art style and also explain how I found mine!
Let's begin.
This post includes affiliate links. If you do decide to purchase something, I will make a commission at no extra cost to you. For more information, please read my entire Privacy Policy here.
What is an art style?
An art style is basically a specific way a person does art.
It's obviously unique and that's what makes it very special. Because it's your style and it's the way you perceive things and draw things.
Nobody discovers their art style in a day or a week.
It can take months or years to form because you're constantly editing and modifying things and tailoring your art to suit your wants.
For instance, this is how my art style changed over the years.
You can also have 2-3 art styles, based on the client's requirements or the project's requirements. And this is totally fine too.
There is no hard and set rule about finding your art style.
However, there are multiple pros to discovering your art style.
Benefits of having your own art style
1. You create a brand
Having your own art style helps you create a unique brand that everyone around the world can recognize.
This is what helps an artist to gain popularity and become famous.
For instance, if I see Lucy Knisley's art on any book cover, I will immediately know it's her and pick it up. I'm a huge fan of her graphic novels, especially – Kid Gloves, Relish, and Something New.
Amateur artists don't have a particular style.
They draw all over the place. Every piece looks different from the next. This shows a lack of consistency, that's why it's essential to have a unique art style if you want to be taken seriously as an Artist.
See my favorite drawing books here.
2. You will find it easier to monetize your art
Once you have a defined art style, you start creating a loyal group of followers who can't get enough of your art style.
At this point, you can either do commissioned work or sell merchandise with your work on it.
I took a very exciting course by Vania Bachur, who explains how to find your art style and then create merchandise and sell it! Give this course a shot, you won't regret it.
3. Drawing becomes faster
Once you've developed your own art style, it becomes easier and faster to draw because you don't have to research expressions or trees or whatever it is you've become a pro at drawing.
You will even get better at drawing without a reference.
That's one of the major benefits of finding your own art style.
Now that we understand how wonderful it is to have your own art style, let's move on to how we can find it!
How to find your art style for Beginners – 13 easy tips!
1. Create an Inspiration Board
As an Illustrator and Comic Artist, my role models were on Instagram.
So, first of all, just focus on following all the work you love.
Whether your people are on Pinterest, Instagram or Deviantart, follow the Artists whose work you cannot get enough of or the work you see yourself doing someday.
You can create mood boards on Pinterest where you collect different pins to a Board. Or save drawings or art on Instagram to your Saved collections.
Keep the art you really like in one place.
This list will keep on changing or evolving as you grow as an artist. And it's completely okay.
2. Ask yourself what you really like about their art
Once you have a ton of artists you follow, write down what you love about their art.
This will help you discover multiple things:
What do I really like drawing? People? Cars? Nature?
What kind of style of art am I drawn to? Digital Illustrations? Pencil Sketches? Watercolor?
What kind of art am I really drawn to? Comics? Paintings?
Doing this will help you figure out what you really like drawing so you can do more of them!
And once you understand what you love drawing, you can move on to step 3!
3. Steal like an Artist
If you are going to become an artist and find your art style, you need to realize one very important thing: Nothing in this world is unique.
I picked up this idea from Austin Kleon's book – Steal Like an Artist!
Every idea, every art style, and every possible notion has already been done before. It's almost impossible to conjure up something that is unique.
His book introduced a whole new perspective to drawing. I liked it so much, I got both of his other books too – Show your work! and Keep going!
So, it's quite alright to steal ideas or copy other people's drawings – but there is an ethical way to do it. When you are stealing from someone, do it to discover your art style.
For instance, if you are taking an online course from another artist, you're going to learn how to draw in their art style.
And that's okay.
But when you're practicing drawing, modify certain attributes of the character – change the expressions, or the style of art.
Whenever I am drawing with a reference, I take multiple pictures to draw from and change multiple attributes.
I may borrow the eyes of a certain character I really like, the hair from a clipping of a magazine, the clothes from a TV show I just watched (I'm looking at you, Emily in Paris), and the colors from a lovely mood board on Pinterest.
I may accentuate some features of the body like adding wider hips or decreasing the size of the waist to unrealistic proportions just to mess around with the character.
And this is completely okay.
So, when you're drawing in the beginning, it's alright to borrow.
Just don't copy an entire drawing and post it on Instagram claiming it to be your own. You might just get in trouble!
4. Ask yourself what you want your drawings to look like
One thing that speeded up my progress in finding my own unique art style was constantly asking myself what I liked about a person's art.
For instance, I loved the Simpsons' big round eyes and I incorporate that in my art style no matter what.
The eyes aren't close together like in the Simpsons though, my art style involves the eyes being far apart.
I like cartoon-style art – like Adventure time so most of my art is brightly colored and has defined outlines.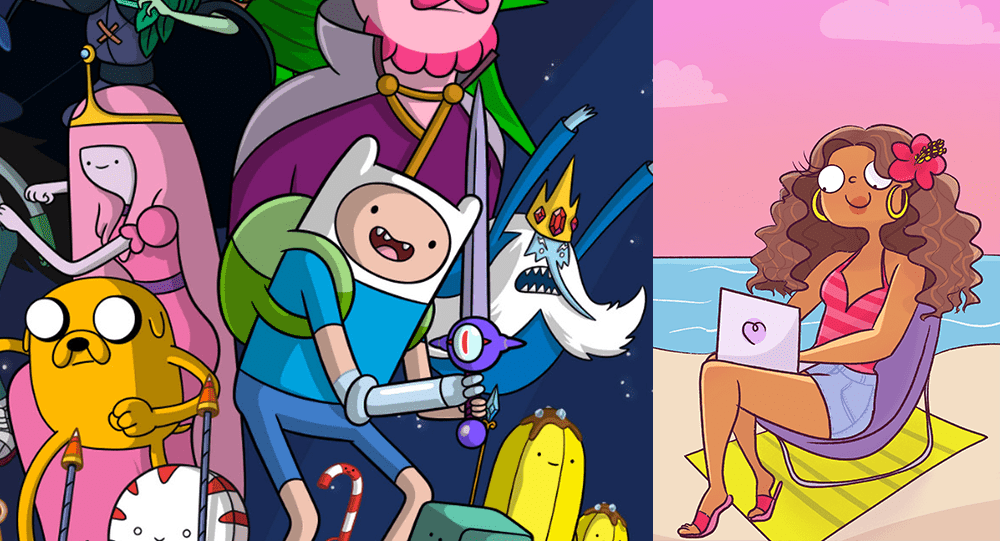 Whatever you are drawn to is basically almost your art style.
My art style slowly evolved to realistic human proportions but slightly big heads because that's what I found super appealing.
5. Build a daily habit of drawing to find your art style
The key to finding your own unique voice and your art style is to develop a strong practice of drawing every single day.
This is how you build a consistent habit of drawing.
And with each piece you draw, your work will not only improve, but your style will become stronger and more pleasing to you.
This is by far the fastest way to discover your own art style.
Unless you draw every day, you cannot expect to become a better artist. So, drawing must become like second nature to you.
Carry a sketchbook with you wherever you go and draw whatever you feel like drawing. Fall in love with the process of drawing so that you enjoy the process.
5. Experiment with different mediums
You are never going to find your art style unless you experiment with multiple mediums.
I have done everything from pencil sketching to digital illustrating and I've spent a lot of time improving my drawing skills in different mediums.
It helped me understand where I wanted to be and what I wanted to do.
A lot of artists prefer working with moleskines and Copic markers.
Some love the smell of pencils and love working with pencil sketching.
Others love carrying an iPad and an Apple pencil around and drawing wherever they go.
So, do what feels natural to you.
Do different things till something speaks to your heart!
6. Have multiple references
Whenever I am drawing something that I find a little challenging, I do look at references to study how the body moves or what angles I need to pay attention to when I am drawing.
For instance, if I want to draw a witch on a laptop, I will look at certain reference pictures of a woman sitting with a laptop before drawing my illustration.
A couple of websites you can use for references (especially for poses) are:
Shutterstock
Google Images
Unsplash
Pinterest
I use Shutterstock for poses but Pinterest mainly for color and mood inspiration.
So, when I'm particularly low on inspiration, I'll take multiple pictures from Pinterest and make some sort of mood board. After which I'll draw my character.
7. Draw more of what you love to help you find your art style
Now, it's no surprise that I love drawing women.
I love drawing female characters in general and I enjoy drawing mermaids, witches, and women in fancy clothes, you get the drift…
So, that's what I draw a lot of and it helps me draw better and improve.
This is one of the best ways to discover your art style as well as get better at drawing quickly!
For example, Dylan Boner loves drawing mermaids and Disney Characters. His Instagram account is filled with them! And obviously, he's developed a unique style that can be recognized everywhere!
It is important to step out of your comfort zone once in a while and draw things you're not so good at in order to improve, but it's okay to build a habit of drawing first.
One class I found really useful is this class that teaches you how to draw by one of my favorite Spanish Illustrators – Natália Dias. All the classes have subtitles, so they're very easy to follow.
Her class is organized extremely well and takes you step-by-step to practice along with the class.
8. Learn from people who are better than you
I pick up multiple drawing books and watch a lot of online courses on Domestika every single week.
This has helped me not only fall in love with drawing but also learn at a much quicker pace.
I'm not saying it is impossible to learn on your own, but it is definitely much harder.
We live in a world where we don't need an art degree to learn how to draw. The internet has made learning so affordable and accessible.
So, don't waste this golden opportunity to learn how to draw and become a better artist!
If you are consistent, you can't possibly fail. This is the truth.
Here are a few classes I thoroughly loved taking that helped me become a better digital illustrator:
If you use my code STRAYCURLS-10 you can get a 10% discount on any of these courses.
I never hesitate to pick up a graphic novel because I love studying expressions and the way artists draw in their cartoon style.
So, no matter what, don't stop learning.
Keep looking at images or art that inspires you and practice drawing every chance you get.
9. Let go of perfectionism
No artist starts out perfect or is magically gifted with an art style from the beginning.
It is something that is slowly formed over the course of drawing a lot. So don't worry about being perfect or having perfect pieces of art.
Let go of that notion that you have to be perfect, and just draw.
Focus on completing pieces. And if you are posting your art online, be prepared for some harsh criticism.
Take the negative criticism that is rude with a pinch of salt. Remember, it's the internet and people can quite brash about these things. But see if there's something common about it – something you can take and improve.
Take only the positives and move forward with your art.
10. It's okay to have a variation of art styles
If you are going to start taking up commissioned work or you're working on different projects, you may need to have a few art styles. And it's okay to have multiple art styles.
It's completely normal and it only means that you are really experienced and can switch between 2-3 art styles.
So, don't stress too much about it.
Just focus on drawing and fall in love with the process – this is the only way you will become a better artist.
Frequently Asked Questions
How long will it take to find my art style?
This really depends on how much you draw and how open you are to learning. Regular artists who draw over 3-4 hours a day, could find their art style in 3-6 months.
People who draw once every other day or 1-2 hours a day, could find their art style in a year. I cover how long it takes people to learn how to draw in this post.
It also depends on how much you understand perspective, lighting, anatomy, and so on, and how well-versed you are about the things you draw.
How did I find my art style?
For me, drawing has always been a stress reliever and a joy.
So, I liked drawing comics about hair in a very cartoony style. And I posted every day on Instagram. This helped me look forward to drawing every day because I enjoyed sharing my art with my audience.
I was able to monetize my art early by working on multiple illustration projects with clients and companies. And I started my first blog using my own hand-drawn illustrations.
I've definitely tried multiple forms of art, like pen-sketching, pencil shading, and illustrations, but I honestly love digital illustrations because they don't require that many resources and are so easy to scale compared to traditional media.
My art style has developed so much since I started posting my comics on Instagram and it was fun developing my art style and watching my progress.
Conclusion
I hope this post helped give you the inspiration to start drawing more consistently and helped you learn how to find your art style.
Either way, if you have any questions, I'll be more than happy to answer them. Just leave a comment below!
More posts you will enjoy: