You're trying to print some simple stickers but you have no clue what sticker paper to use.
Or you're clueless about where to start.
Please read my post on drawing your own stickers on Procreate here if you're thinking about making your own stickers.
And in this post, I'll answer all your questions that deal with sticker paper.
Let's begin!
But before I get into the post, please take a moment to subscribe to my weekly newsletter, where I send all kinds of drawing tutorials, drawing worksheets, and drawing resources like courses and books:
It's the perfect opportunity to get inspired and be consistent with drawing!
This post includes affiliate links. If you do decide to purchase something, I will make a commission at no extra cost to you. For more information, please read my entire Privacy Policy here.
Which paper is used for stickers?
The most commonly used paper for stickers is vinyl sticker paper.
This is the best quality sticker paper you will find on the market.
You get 2 types of finish on these sticker papers – Matte and Glossy.
Glossy sticker paper looks way better than matte sticker paper but you can write easily on matte sticker paper as compared to glossy sticker paper.
Sticker paper is a sheet of paper that you can print on and then peel so you can stick the paper anywhere – on books, bottles, etc.
Here is my favorite sticker paper for printing stickers from home:
What is the difference between glossy and matte sticker paper?
Glossy sticker paper has a nice shiny finish on the sticker. They're also very smooth to touch.
The colors of the stickers will be very vibrant and rich.
If you want to make your stickers look professional and beautiful, always go with glossy sticker paper.
However, matte sticker paper isn't shiny. It's rather subtle and plain looking.
I honestly prefer glossy sticker paper compared to matte. Matte sticker paper can be used for projects where you're not really particular about the stickers looking great.
Does sticker paper work with any printer?
This depends on the sticker paper you are buying.
When selecting sticker paper to print stickers, check your printer first.
There are 2 types of printers we commonly use at home:
Inkjet printers
Laser printers
Based on the printer you have, you can select the appropriate sticker paper for your printing needs.
Some sticker papers can be used in both Laser printers and Inkjet printers.
Whereas some sticker paper will specify either "Inkjet" or "Laser."
Just check the sticker paper information before buying. You don't want to get sticker paper that is incompatible with your printer.
Is vinyl and sticker paper the same?
Vinyl stickers are a type of sticker. It is made with high-quality vinyl material which is plastic.
Normal sticker paper is usually made of paper.
So, vinyl stickers are more durable and last longer.
The pros of vinyl stickers are:
They last longer
They can be peeled once stuck and the quality won't get affected much
They won't tear and come off easily
It is more waterproof than paper stickers
It is more UV resistant than paper stickers so they won't fade easily
They are preferred for outdoor usage
Vinyl stickers are usually used for items that have to withstand a lot of wear and tear like bikes, cars, etc.
Paper stickers are less expensive and can be used on planners, water bottles, notebooks, boxes, etc. They're mainly used for indoor projects.
So, depending on your usage, you can decide which stickers you would like to go for.
Please note that vinyl stickers are more expensive.
These are the best vinyl sticker sheets you can buy right now:
How do I make my own stickers?
There are a lot of ways to make your own stickers.
The most popular method is to draw the stickers yourself – I have a post here that explains how you can make your own stickers using a digital tablet and Procreate.
And once you've drawn your stickers, you can just get these items:
And you will have your own homemade stickers.
What sticker paper is waterproof?
The best sticker paper you can get is Vinyl glossy sticker paper that's also waterproof.
Waterproof stickers or water-resistant stickers can be stuck on water bottles or bowls or cups that you're going to be washing.
I highly recommend also taking an extra step to seal your stickers after printing just to make sure they are well-protected.
Can you laminate stickers?
Yes, you can actually laminate stickers.
They end up lasting so much longer because now they have another layer of protection!
Here is a helpful video I found that explains how you can laminate stickers using Cricut:
What sticker paper is best for Cricut?
I honestly feel that the sticker paper made by the Cricut brand is unnecessarily expensive. And you get very few sheets as compared to other brands.
You can work with brands and they all cut just fine on Cricut.
There are the best sticker paper brands that work with Cricut:
What sticker paper does Redbubble use?
Redbubble uses vinyl sticker paper that is transparent and glossy. They kiss-cut their stickers, meaning they cut only the vinyl layer and not the paper backing.
You can check the Redbubble blog to learn more about how they make their stickers and how you should upload your design to get the best quality stickers for your store.
Does silhouette sticker paper work with Cricut?
It does work, but sometimes you can run into issues with the cutting because those papers were meant for the Silhouette machine.
However, this post explains how to adjust your Silhouette sticker paper so that it works for a Cricut machine.
How long does sticker paper take to dry?
After printing your stickers, please leave them aside (undisturbed) for at least 15-20 minutes so that the ink dries on them properly.
Don't try to cut or touch your stickers till the printer ink has dried properly on the stickers.
What is the best sticker paper for stickers?
Honestly, the best sticker paper you can get is Vinyl glossy sticker paper that's also waterproof.
I love this brand because:
It is super high-quality sticker paper – it includes 15 sheets of 8.5″ x 11″. The quality and resolution of the stickers after printing are amazing! It has a nice glossy finish.
These stickers are water-resistant and can be used both indoors and outdoors. After printing on the stickers, you can seal the stickers to add more protection.
These stickers are scratch and tear-resistant so they last so much longer than other brands.
This sticker paper is compatible with most Inkjet printers. And the ink doesn't smudge. It works with any sticker cutting machine.
How to print on holographic sticker paper?
You can print stickers on holographic sticker paper as you normally would.
The best holographic sticker paper is this one. It works great with Cricut and Silhouette cutting machines – and both Silhouette and Cricut have no issues cutting this holographic sticker paper.
Check out this paper here:
I found this great video that explains how to print and cut stickers on holographic sticker paper if you want more information.
Do you need a special printer to print stickers?
No, you can print your stickers on a regular Inkjet printer like this one.
You will however need sticker paper so that you can peel the stickers once it's finished printing.
Can Cricut print stickers?
No, a Cricut cannot print stickers.
A Cricut can only cut the stickers once it's printed on a printer.
The best printer I've found that prints beautiful homemade stickers is this one.
It's also very affordable.
You will have to print the stickers on a regular printer and then use a Cricut to cut the stickers.
If you're making a few stickers at home, you can just use ordinary scissors to cut the stickers. Unless you're making stickers in large batches, you don't really need a Cricut.
Conclusion
Printing stickers at home can be a little confusing at first.
But once you nail the process, it becomes second nature to you and you're able to do it automatically without putting much thought into it.
I hope this post was helpful to you!
Please check out my other post on making the stickers via Procreate if you want to learn how to draw your own stickers!
If you are interested in drawing in a kawaii style and then selling clipart or merchandise on Etsy, check out this course!
My old bud Ilaria (we've been friends on Instagram back when I had Instagram) created this course! I've watched her grow from 0 followers, and I'm so, so proud of her!
And believe it or not, there is not 1 single good online course about learning how to draw kawaii art and then making physical stickers on the internet. I've been looking for a course like this for a long, long time.
And it's finally here!!!
You can create your own stickers and print them and sell them on Etsy or any space! She goes into detail about how to draw the characters.
This is by far one of the best courses I've taken that is so cute and so educational.
The course is in English, and it's amazing!
What do you need?
A sketchbook, Photoshop, and a graphic tablet so that you can draw the kawaii characters. If you want to make stickers, you'll need a printer and sticker sheets.
Even if you don't want to make stickers and just draw kawaii characters, this course is perfect!
And if you are really keen on improving your drawings or you want to create cute kawaii animals and kawaii people, check out this second course by Sara.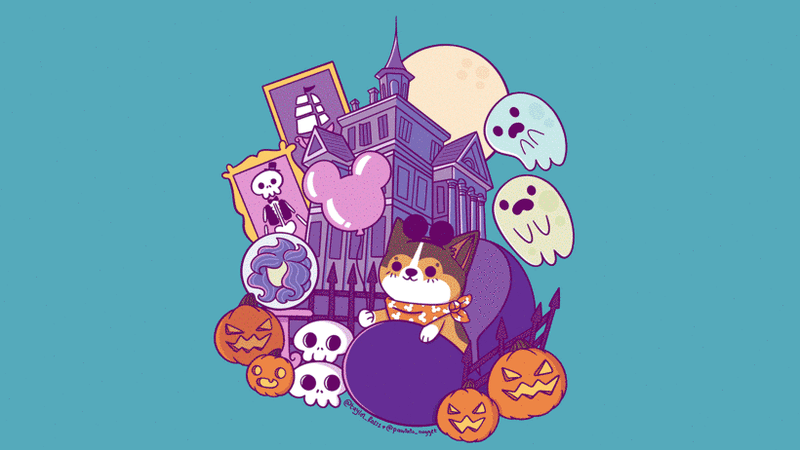 Sara teaches you how to draw anything in a nice kawaii style. I really love these kinds of courses because they're so easy to learn and it's very easy to get clients because this is a really relatable drawing style.
It is in Italian but it comes with subtitles and it's really easy to follow.

Use code STRAYCURLS-10 to get a 10% discount!
If you are just getting started with ProCreate, I highly recommend this course: Procreate for Beginners: Digital Illustration 101