I recently developed an urge to learn to draw anime and chibi characters.
I've included some tutorials on my blog and my primary aim is to learn how to draw their hair.
So, I purchased quite a few books to help me learn how to draw chibi characters easily.
In this post, I am going to review the best ones I've found so that you can buy a few books to help you draw chibis easily.
I will also include an online course that I found really helpful.
But before I get into the post, please take a moment to subscribe to my weekly newsletter, where I send all kinds of drawing tutorials, drawing worksheets, and drawing resources like courses and books:
It's the perfect opportunity to get inspired and be consistent with drawing!
Keep reading till the end!
This post includes affiliate links. If you do decide to purchase something, I will make a commission at no extra cost to you. For more information, please read my entire Privacy Policy here.
7 Best Books to Learn to draw Chibi
As a person who's never drawn anime or chibi growing up, it definitely was a struggle to get started.
But once you understand the basic template of drawing chibi characters, it's easy to pick up and you'll find yourself loving every moment of it.
This list is in no specific order.
This is the first book I purchased that teaches people how to draw chibi characters.
I've been following Anny (Yoai is her Artist name) for a long time on Instagram before I purchased the book.
This book is solid gold for anyone who wants to learn how to draw chibi characters really easily.
It is divided into 3 parts:
In part 1, she covers the basics: How to draw heads, the eyes, the hair, the clothes, etc. She delves into detail regarding what tools she uses and even teaches you the shading techniques. This is perfect for people wanting to learn to draw chibis using traditional art
In parts 2 and 3: she includes multiple step-by-step tutorials on drawing normal chibis and chibi beasties (chibi vampires and furries) and this is very helpful because you can draw alongside her.
At the end of the book, she includes multiple hairstyles and clothes, and accessories that you can use as reference when drawing your chibi characters.
She also includes multiple poses so that you can draw your chibi character in different poses!
I've found this book extremely useful!
Also, if you enjoyed this book, Anne has written another book that teaches how to draw Anime.
This is the biggest and thickest book I've purchased on drawing chibis.
It is so detailed, that I don't even know how these 2 authors finished creating this book in this lifetime.
They start with the absolute basics like understanding the ratio of the body to the head and drawing different types of chibis.
They then explore how you can draw a chibi from different angles so you are able to understand different views and angle points.
If you have to get just 1 book, then let it be this one.
There are step-by-step processes, and you'll learn how to draw chibi characters from scratch even if you have no idea what one looks like.
You'll learn how to draw the head step by step and then learn where to place the eyes and draw the eyes from scratch as well. They finally end the book by drawing different types of expressions before moving on to drawing more proportions.
This book focuses on proportions mainly so if you get through this book, you'll be able to draw chibi characters in your sleep.
Sophia Elizabeth is an artist who creates books mainly directed at people of all ages.
It suffices to say that this is an easy book to learn. If you want something that is very easy and simplified and just guides you through drawing chibi characters using simple shapes, then this is the book you need.
It is definitely not as detailed or advanced as the previous two books on the list (those are for beginner and intermediate artists), and this book is mainly for people who are not yet familiar with drawing and just want to get started.
You can read the reviews on this book to understand more about what you'll get from it.
It took me a few weeks to go through this book because it is just that vast. I have the Kindle version and it's over 900 pages long.
This book definitely different from the others in terms of how it is taught.
Here is what you will learn in this book:
Chibi Basics which covers proportions, the head, eye expressions, hair body, and different views
Additional chibi stuff like drawing clothes, footwear, their props, furniture, and vehicles
Special chibi drawings like magical girls, evil chibis, science fiction chibis, chibi fairies, and couples
Mini monsters that include more cuties and monsters in horns
Chibi animals
Action chibis, chibi robots, and even animating chibis to draw them in motion.
Chibi backgrounds and locations
As I said, this book is comprehensive. It doesn't just include drawing chibi characters, but animals and backgrounds and so much more.
This book will easily take weeks to go through.
Christopher Hart has many books on Chibi, Anime, and Manga. So if you are able to get through this book, you can eventually read the others.
The only con about this book is that the characters aren't as cute and Japanese-like as the first 2 books I've highlighted in this list. But it's nonetheless, a brilliant book on its own. I highly suggest checking the book out before you buy it.
If you do love the art style, then this book is perfect for you
If you're looking to draw realistic pencil portraits, I highly recommend taking this online course. It has helped elevate my pencil sketching skills.
This book starts by breaking down:
How to draw a female chibi
How to draw a male chibi
Drawing different chibis with multiple expressions
Characters and poses
Other things like vehicles, animals, robots, etc.
This book is very similar to Christopher Hart's book because it covers everything.
I love how detailed it is when it comes to drawing hair and eyes.
If you sit and complete all the drawing exercises, you'll become a professional chibi artist by the time you're done reading this book.
I highly recommend adding this one to your pile.
This book has 25 very good step-by-step tutorials that teach kids how to draw chibi characters.
It's not a professional textbook like the rest I've covered in this list.
It's specifically for kids and also adults who have zero experience drawing. It's for a beginner artist specifically.
I am including it in the list because it has helped so many kids fall in love with chibi art and get good at it. This is an introductory book that will help them get used to drawing simple chibi characters before they can proceed to the other books on this list.
This book is best for kids aged 9-12 so it makes an excellent drawing gift for 10-year-olds.
So, if you're looking for something that is highly doable and easy to finish quickly, get this book. It's totally worth it.
I've covered so many books on chibi characters that I thought I'd include one book that teaches how to draw cute chibi animals or critters.
This lovely book includes 75 easy-to-follow tutorials on different animals like unicorns, narwhals, hamsters and so much more.
It's an adorable book and the art style is brilliant!
It can be used by both kids and adults. It's not complicated to follow and it's super adorable!
Conclusion on the best books to learn to draw chibis
Unlike Anime, I feel learning to draw chibi is slightly easier because of the round bodies and easy-to-replicate facial features.
I genuinely feel if you get any of these books you will be sorted.
However, there is one course I feel you should most definitely get if you really want to up your learning game.
Learning to draw chibis via video is much easier than books.
I have found an in-depth course on Udemy that teaches how to draw chibi characters. It's really beautiful and helpful, please check it out.
What I love about this course is that you will learn how to draw chibis from scratch. This course starts with the basics and includes 11 hours of video content that will teach you:
The basics of Photoshop so you learn how to draw (you can use any digital tool or even pencil and markers)
How to draw chibi bodies and a variety of heads using simple shapes
How to draw male and female clothes and even draw folds on the clothes
How to draw different types of hair and even color the hair
How to color the character's skin, hair, and clothes
You will have lifetime access to the course and you can ask the course creator any questions and she will help you out along the way!
I loved this course because it's so beautifully detailed. She teaches how to draw different lengths and different types of hair:
And the coloring section is even more detailed.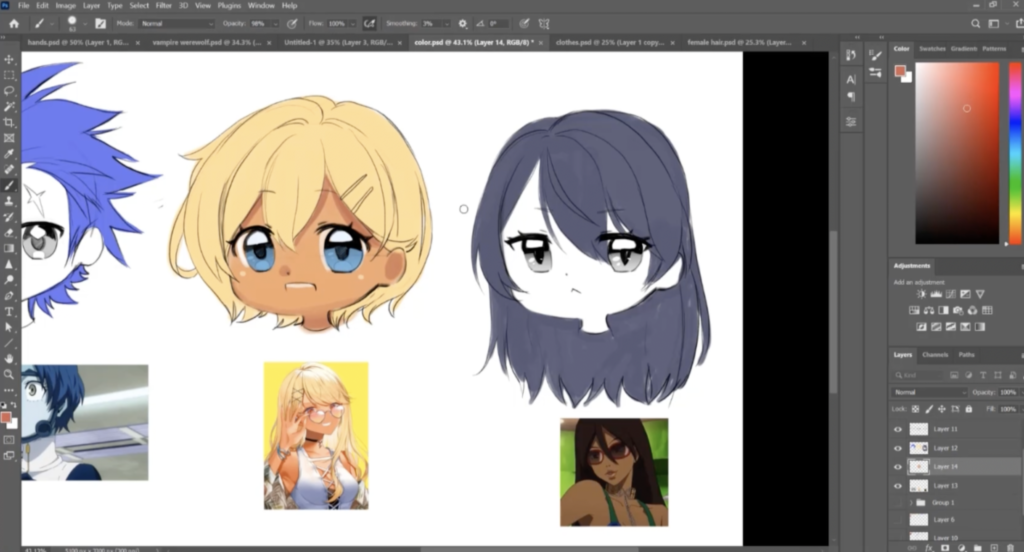 If you are just getting started with ProCreate, I highly recommend this course: Procreate for Beginners: Digital Illustration 101
You may also enjoy: