I love drawing cute food and bunnies, so I figured I'd create this tutorial!
This makes an excellent art project for kids during Easter who want to draw a chocolate bunny.
You can check out my other kawaii tutorials here.
In this post, I'm going to show you how to draw a chocolate bunny easily and you can follow this tutorial whether you are an adult or a kid.
I'll also show you how to color it and add those nice chocolate indentation marks like you get with the real chocolate bunnies!
This post includes affiliate links. If you do decide to purchase something, I will make a commission at no extra cost to you. For more information, please read my entire Privacy Policy here.
I currently use an iPad Pro and an Apple Pencil to create my digital art.
But you can use any tool – a pen and paper or color pencils or Copic markers or Photoshop because the drawing method remains the same.
How to draw a cute Chocolate Bunny – Easy Step by step instructions for Kids and Adults
First, I always start with a rough guide or template because this makes drawing very easy.
So, let's start by drawing a nice oval shape first tilted to one side like this. This will be the bunny's head.
Next, draw the body of the bunny – this will be another oval but tilted in the opposite direction like this.
Take your time with this, the circles needn't be perfect because this is just the template we are going to use to draw the bunny.
Now, once you're done drawing the template, it's time to start drawing the outline.
So, using the first circle as a guide, start drawing the head of the bunny.
Don't complete the whole circle, leave it a bit empty like this:
This part is going to connect to the rest of the bunny's body.
Now, draw the body of the chocolate bunny like this:
Next, we'll draw the eye and the nose of the bunny. Just draw what you see below:
Easy, isn't it?
Next, it's time for the signature long ears of the chocolate bunny. Just follow the direction of the arrows to draw the ears of the bunny.
Now, you can add more detail to the bunny's ears by drawing a small shape inside the ear like this:
Next, we're going to draw a small round tail at the end of the bunny's bottom. Just draw a small curve like this:
Now, to draw the leg, we need to draw an inverted "3" and bring the line back to the bunny.
Just follow the arrows to see what I mean:
Lastly, we need to draw the bunny's arms.
Just draw two small inverted "L" shapes to draw the bunny's arms.
We're done drawing the chocolate bunny!
Just clean up the lines so that we can start coloring it.
I'm going to erase the overlapping lines.
Now, I'll color the bunny a beautiful chocolate brown color like this: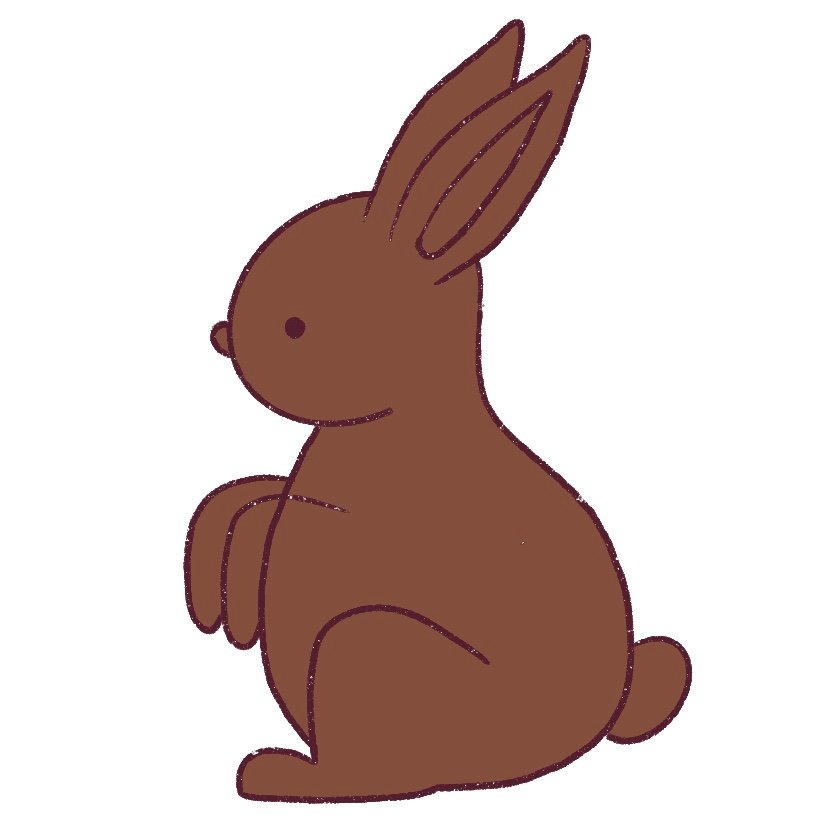 Once you're done coloring the chocolate bunny, you can use a darker chocolate brown to add small marks like this all over the chocolate bunny's body to make the chocolate look more textured and realistic.
Doesn't the chocolate bunny look good enough to eat?
Now, you can add one small blush spot in pink under the bunny's eye to give it that cute effect like this!
And we're finished!
We've just learned how to draw and color a chocolate bunny!
Conclusion of how to draw a chocolate bunny + Drawing Resources
Was this tutorial helpful?
I hope you could learn how to draw a chocolate bunny easily!
Drawing bunnies are so much fun!
If you'd like to learn to draw more cute things, check out these books!
If you want to see more tutorials on drawing kawaii animals and kawaii things, please leave a comment below on what you'd like to see next!
I will be adding more kawaii drawing tutorials (animals, food, and lots of things) to this blog, so keep a lookout!
If you are interested in drawing cute animals in a kawaii style, check out this amazing course on Udemy that teaches you how to draw really cute animals like this!
If you are just getting started with ProCreate, I highly recommend this course: Procreate for Beginners: Digital Illustration 101
You may also enjoy: