The first thing I notice about a person is their hair. I am absolutely fascinated with hair.
I even had a comic page on Instagram solely focused on hair comics.
By the way, I myself have curly hair and we are so underrepresented.
And drawing hair can be really hard – but not if you know the technique!
I already have a detailed post on drawing afro hair step by step here especially if you're using Procreate. I've also covered how to draw twists in this post and how to draw male dreads in this one.
In this post, I will show you another method on how to draw kinky hair.
I also have a few hair tutorials here if you want to check them out.
I will be breaking it down into easy steps so you can follow them no matter how old you are.
Here's what you will learn to draw:
This post includes affiliate links. If you do decide to purchase something, I will make a commission at no extra cost to you. For more information, please read my entire Privacy Policy here.
I am currently using an iPad Pro and an Apple Pencil to create all my illustrations. But you can use any tool – a pen and paper or Photoshop because the drawing method remains the same.
Let's begin.
How to Draw Kinky Hair for Beginners
I'll begin with drawing the head first, and then draw the kinky hair over it.
Remember to create a new layer for every color you add.
And keep your sketch on another layer. This will make it very easy to manipulate layers and change colors. If you're just getting started with digital art, please read these posts:
Step 1: Draw the head
Before anything else, let's begin by drawing the head. We can't have hair without a head now, can we?
Let's just draw a simple head shape.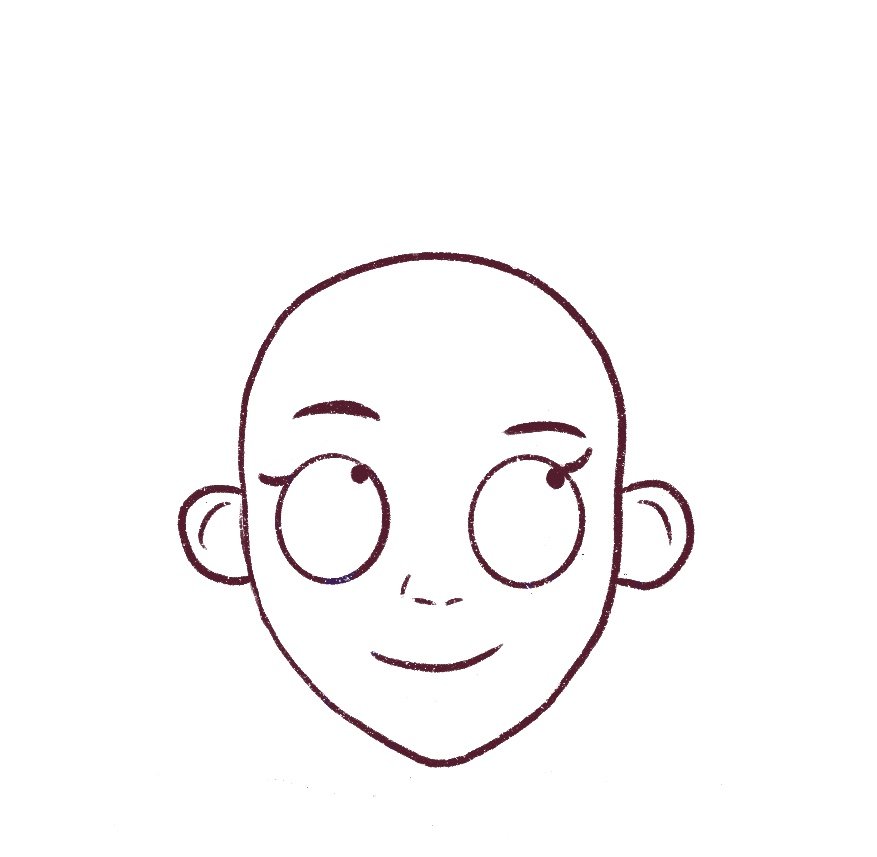 I'm drawing the head and the face in a cartoon style of course.
You can draw any shape you feel comfortable with but I highly suggest you pick up this book if you're looking for a good book to teach you to draw in cartoon style.
Now, I'll just color the face nice skin color, and using the bonobo brush (this comes free with Procreate), I am going to add some color to her cheeks and nose.
This is a great way to add texture to the face as you can see below: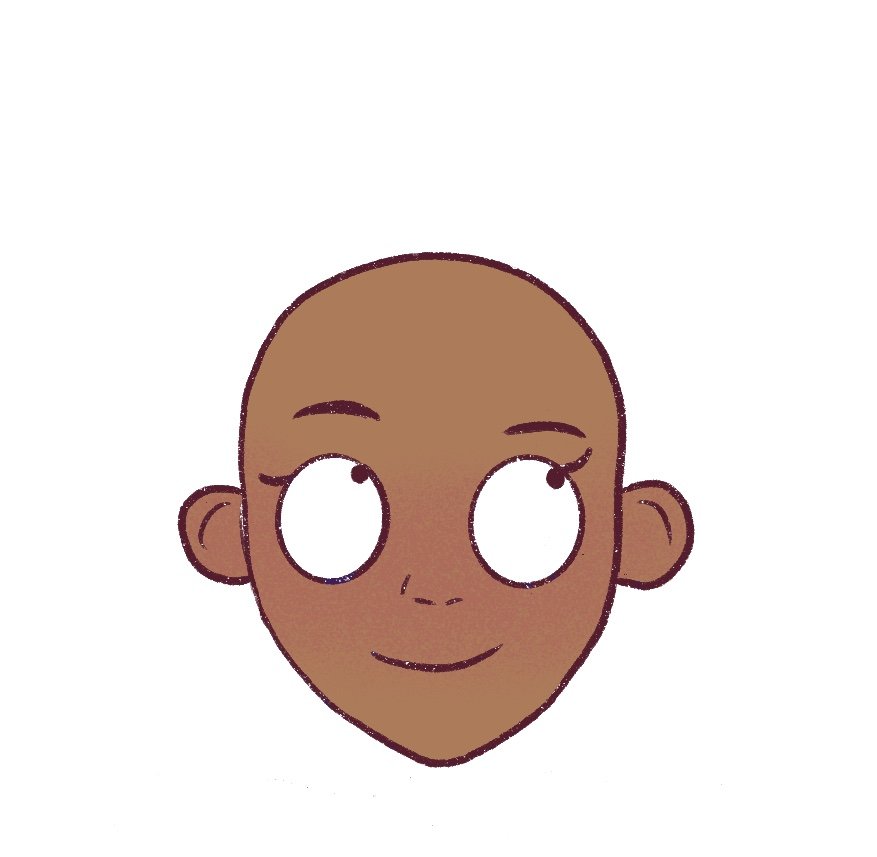 Next, using the dry ink brush (free in Procreate), I will color her lips.
And I've finished drawing a simple face.
Now, let's move on to drawing the kinky hair.
Step 2: Draw the outline and base of the hair
Now, before we start drawing the kinky hair, we need to understand what shape we want to draw the hair in.
You can use stock photos on Google or Canva for inspiration. You can even check Pinterest. Just type "kinky hair" or "curly hair" to get kinky hair drawing references.
I'm going to go with a simple afro hair shape to draw this kinky hair.
And on a new layer, using a bright color, I will simply sketch over the head – this will help me draw the kinky hair.
Now, on a new layer underneath the sketch layer, we just drew, and sketch the base of the afro kinky hair using the bonobo brush (which comes free in Procreate).
You can use any color you want, I'm using a dark shade of purple for this kinky hair drawing.
It doesn't need to be perfect and you can overlap the ears and some parts of the face.
Remember, this layer will come underneath the sketch layer but over the head layer.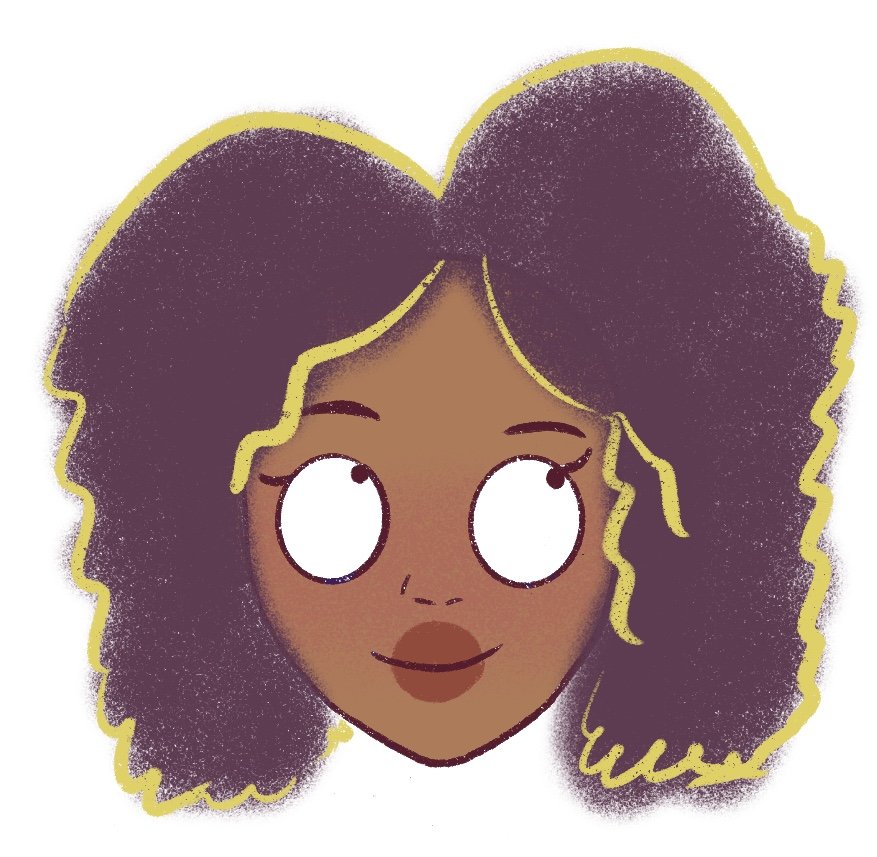 After you're happy with the shape, delete the sketch layer or hide it.
We don't need it anymore.
Now, we can add some definition to our kinky hair.
Step 3: Keep adding curls and definition to hair
Using a darker color (more saturated) I'm going to draw little corkscrew curls with the Dry Ink brush (this also comes free with Procreate).
Adjust the thickness of the brush to your liking and remember to vary the length and density of the curls.
Some curls can be tight and some can be loose. This will make your kinky hair drawing look more natural.
I'm going to start with the left side of the hair base and then slowly complete the entire hair.
Just keep drawing more curls and remember to draw the curls in the direction of the hair growth – this will make your kinky curly hair look more organic!
The aim is to add more layers so that your hair looks very natural.
Now, using an even darker shade than before, draw more curls over the previous curls.
Please use a new layer for this.
I'm even increasing the thickness slightly so that it looks like her hair is more voluminous and kinky.
Once you're done drawing all the curls, and you're happy with how the hair looks, play with the colors till your drawing is perfect.
And voila!
You've learned how to draw kinky hair!
Takeaway – How to draw kinky hair + Resources
I hope this in-depth tutorial was helpful to you, and that you were able to learn how to draw kinky hair.
I know drawing hair can be a little tricky.
But drawing hair does get much easier with practice. Trust me. Also, drawing with references helps! You can look at stock photos to see what shape of hair you want before you start drawing the kinky hair.
One of the best parts about drawing in cartoon style is that you don't need to complicate things by adding too much texture. You just have to get the shape right and draw a few lines in the direction of hair growth.
I have a post that you can read on how to find your art style
If you want to see more tutorials on hair and people, just leave a comment down below. You can check out my other posts on drawing hair over here.
I will be adding more hair drawing tutorials to this blog, so keep a lookout!
If you're looking to improve your drawings faster and want to really draw as a hobby or even pick up drawing professionally, I highly recommend picking up this beautiful online course that teaches you how to draw female cartoon characters.
Use code STRAYCURLS-10 to get a 10% discount!
This class will teach you how to draw a female character from scratch!
If you are just getting started with ProCreate, I highly recommend this course: Procreate for Beginners: Digital Illustration 101
It will help you learn Procreate within a day or a week at most. I found it super helpful!
You may also enjoy: