Of late, I've been obsessed with drawing chibi characters.
I am currently enjoying drawing chibi food and chibi girls because they're so darn cute and it's super addictive.
A lot of people get intimidated drawing Anime or Chibi eyes – and I was in your place too.
But as you keep practicing, it actually gets easier.
You can even pick up my free printable chibi face template here and practice on your own:
This is what you will learn to draw by the end of this drawing tutorial:
Okay, let's begin with the basics.
This post includes affiliate links. If you do decide to purchase something, I will make a commission at no extra cost to you. For more information, please read my entire Privacy Policy here.
I am learning how to draw chibi characters from all these chibi drawing books. So, please check out those books if you really want to enhance your learning.
Tools I'm using to draw my digital art:
I'm currently using:
And I'm using the Procreate software (which costs $10 one-time-fee)
I highly recommend looking at this superb online course that teaches you how to use Procreate.
You can draw this using pencils or a fine marker, or draw it digitally like me.
The tools you use don't matter because the technique remains the same.
How to Draw a Crying Chibi Face – Step-by-step easy tutorial for Beginners
If you are using digital art, please remember to keep your lineart on one layer and make it a reference layer.
Remember to keep each color on a new layer – this will allow you to manipulate any specific layer without affecting the others.
All these colors should be underneath the reference layer so that you're not messing with your outline.
This will enable us to drag and drop colors easily if the area or section is closed completely by lineart.
Step 1: Draw the eye outline and eyelashes
We will draw 2 curves first.
Now, I'm drawing this at a 3/4th view so the left eye will be slightly smaller than the right eye since it's further away from the viewer.
When drawing these curves, it needn't be perfect.
I am drawing this digitally after all.
I am using the Studio Pen brush for this – it is free in Procreate.
Easy enough, right?
Next, thicken the curves you just drew – and make sure the inner corners have these little divisions like this.
The whole idea is to make the chibi eyes very deep and beautiful.
Next, I'll add some eyelashes.
I'm going to add 3 eyelashes and try to make them as uniform as possible.
Remember, it's okay if it's not perfect.
Next, we'll start drawing the irises.
You want it to be oval with the shape slightly tapering down as we go to the bottom.
Now, I am going to thicken the top part of the irises to give it more depth and texture.
It's okay if the lines aren't too smooth – it will come together slowly.
Step 2: Add color to the face
Next, using the Soft Brush in Procreate (it's free), I'm going to add her skin color behind the eyes, and using the same brush, I'll just add a little blush under the eyes.
When using the soft brush, you want to be very delicate with your hand movements – don't make any harsh lines.
Next, I'll add the white part to her eyes using the same brush.
Now, I'll change the eye outline layer to Alpha lock and instead of the harsh black I've used, I'm going to go in with my soft brush and just make it a little brown.
I'll use a reddish brown – so that the color looks nice against the peach skin.
This looks great.
But if you want to add some more effects, I'm going to decrease the size of the soft brush and go in again and add some peach spots to the eyelashes – just to give it more depth and texture.
This is what painting is all about – you keep adding colors on new layers to add more texture and depth.
Do you see how soft her eyes look now?
Isn't it nice?
Okay, we're done with this.
Let's color the inside of the eyes.
Step 3: Color the inside of the chibi eyes
I already have a very detailed tutorial on how I color my digital art, so please check that out if you have any doubts. It even includes a video so you can see step-by-step how I color all my digital art.
Let's start by coloring the irises.
You can color this any color you want.
I'm going to use purple today.
Use a medium-tone color.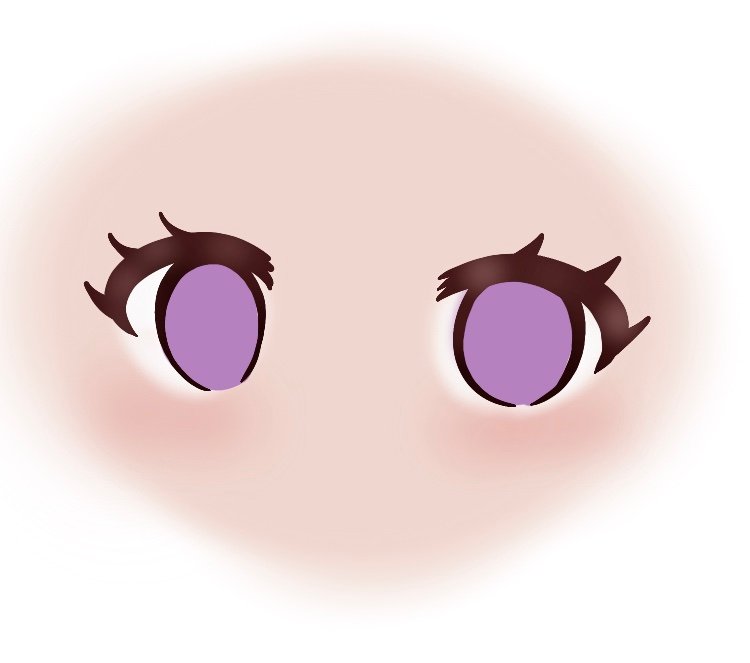 You can draw any type of chibi eyes – but in this tutorial, I'm going with a pretty simple type.
Next, using the same Studio brush, I'm going to add 2 light shades of purple spots below.
This is a particular style I learned by following these books on how to draw chibi characters.
Next, using a dark purple shade, I'll draw 2 semi-circles above inside the eyes – it serves as a shadow.
Using a darker shade of purple, I'm going to draw one more rainbow shape in between these two purple shapes like so:
And finally, let's draw the pupils.
With a really dark purple color, I'll draw 2 large circles inside the eyes like this:
Step 4: Add highlights
Now, we will need to add some highlights to make the eye pop.
On a new layer, I'll take this blue color and add 2 semi-circles in the top left corner. Change the blending mode of the layer to Soft Light.
And finally, using the soft brush, on a new layer, I'll add 3 white dots in each eye like this.
This is going to give your chibi eyes that very cute glistening look and make her look all innocent and sweet.
And tada!
We're done.
We just learned how to draw chibi eyes on Procreate.
Conclusion
Drawing Anime and Chibi takes some time but I am going to attach a few resources below that will really help you.
If you want to see more tutorials on chibi, just leave a comment down below. You can check out my other posts on drawing chibi here.
I will be adding more chibi drawing tutorials to this blog, so keep a lookout!
If you are looking for books on how to draw anime and chibi faces or how to draw anime hairstyles, take a look at these books:
If you're looking to improve your drawings faster and want to really draw as a hobby or even pick up drawing professionally, I highly recommend picking up this beautiful online course that teaches you how to draw manga characters easily from scratch.
Use code STRAYCURLS-10 to get a 10% discount!
This class will teach you how to draw manga characters from scratch and add personalities to them.
You don't need any tools except a pencil and paper.
It's a very detailed course and it's not at all expensive.
If you are just getting started with ProCreate, I highly recommend this course: Procreate for Beginners: Digital Illustration 101
You may also enjoy: